July 14th 1951 - Froilan Gonzalez and the 375 F1 gave the Scuderia its very first ever victory in the Formula World Championship in the British Grand Prix at Silverstone.
July 10th 2011 - 60 years later, Fernando Alonso gives the Scuderia its first victory of the season aboard the Ferrari 150º Italia.
To celebrate this historic event, Ferrari produced the special "60 Years of Victories in Formula 1" package for the HGTE version of the 599 GTB.  Only 40 were produced in total, out of which only 20 were imported to the United States.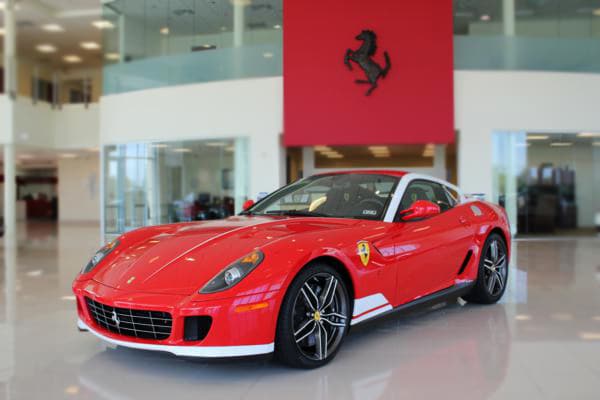 This special edition 599 features modifications to both the car's exterior and interior with detailing, colors and materials inspired by Alonso's car, such the following exclusive touches:
 
Ferrari 150º Italia Livery

This car has the Scuderia 2011 red livery used for Fernando Alonso's Ferrari 150º Italia.  The exterior also features Formula 1 white on the lower part of the front bumber and mudguards, hood, A-pillars and buttresses.  The tricolor featured on the spoiler of the 150º Italia is also represented on the rear deck lid. The look is completed by exclusive 20" diamond-finish forged wheels, satin-finish aluminum fuel cap and an oversized Scuderia Ferrari shield on each of the front fenders, painted as per competition cars.

 
 
 


 
 
 
 
 
 
 




Cabin

The cabin takes its inspiration from Alonso's car.  Extensive use of innovative and technical materials results in track-car look with dark shades predominating.

The seats feature an innovative technical material known as Superfabric, which provides superb grip and has been used in the areas of greatest contact with the driver's body.  The seats are upholstered in black Alcantara and the Scuderia Ferrari logo is stitched onto the headrests.

The dashboard features a special silver plaque commemorating 60 years of Ferrari victories in Formula 1 and featuring the signature of Fernando Alonso.